Would you prefer to start a company going solo or finding partners first?
In this interview, we are joined by Hubert Baya Toda. Hubert is from HEC Paris, 2018 class.
Hubert defines himself as a tech entrepreneur, co-founder of Leakmited, a company that predicts and locates water leaking pipes.
Also, Hubert is going to tell us how he decided to leave a project management position in an energy company then decided to find a partner in a kind of dating event for entrepreneurs, instead of going solo.
If you enjoyed this episode be sure to join our mailing list to find out about what books are coming up, giveaways we're running, special events, and more.
Check out our courses specifically designed for MBAs
Episode Notes
Working in a Company and Doing a PhD simultaneously
Where do you live? Where are you from? And how do you present yourself?
[1:16] I live in Paris, France. I'm originally from Cameroon, but now I have a french madam (wife). I present myself as an entrepreneur in the tech sector because I have a technical and business background. So I have an engineering degree, a PhD. Then I worked as a product manager, business developer, did an MBA, and now I have started my own company. So I really define myself as a tech entrepreneur with a strong business sense.
What resources would you recommend about entrepreneurship?
[2:06] There are many different resources. I think what matters is really the type of business you want to launch. I would say there are some obvious books like The Lean Startup that should be read. There is also The Hard Thing About Hard Things, it's a way to describe the reality of Entrepreneurship, and how difficult it is.
And it's not like you stand your idea, and then you get acquired for a lot of money. It helps you make decisions when it's very difficult. Because you're in a ship, but you're not sure of the direction where you're heading to. You have to always update the route and manage your team. This book is quite good at explaining this difficulty, and how to navigate around that. So this first book is to sit down and think. And then you have those blogs that you can follow, even business angels that you can follow.
How was the experience of working in a company and doing your PhD at the same time?
[3:47] Good point. In fact, I did my PhD inside the company. There is an incredibly odd possibility you can do a PhD at the university and in a company. So I did a PhD in a company because I was really interested in the application. The real application of research is how you can change something in a very pragmatic way. I wanted to do it in this company, and I spent three years doing my PhD I was lucky to participate in the full stand offer of the program. I think that convinced my company to give me an offer.
After that, I stayed in the company as an R&D (Research and development) engineer. Then I was promoted to product manager. It was a very nice position, where I had to deal with the client and my technical team because the business model of the business unit was changing. We wanted to develop new products that we can license to some big corporate or small-medium enterprise that could sell them for us.
We were starting from scratch, literally. So you have to test the market, talk to customers. See which product they are really interested in. Then convince the technical team to build it, and then get the funding. So it was a great experience to be in the product manager position, where I had to evolve in the skills to learn a little bit more about business skills. But I was frustrated because it wasn't fast enough. I felt like we could be way faster than that.
Quitting your job to go for Entrepreneurship
Why did you decide to quit your job?
[5:13] I started to be interested, started reading blogs and reading articles about Entrepreneurship, and I was thinking: "we are slow because we have to wait." I mean, I understand the chain of command is huge. If you want to make a decision, you have to ask your boss who asked his boss.
And at the same time, I felt like I needed some business skills to really know the fundamentals of a market strategy, building a real value proposition or business plan because I have to find funding. And I thought maybe it's good timing to do an MBA with a strong entrepreneurship aspect.
That's the reason why I chose Paris HEC. And because at HEC you have 18 months, during the first 14 months you can have the courses and electives, and in the end, you can do an Entrepreneurship specialization. And I really wanted to do that, to do a real MBA, and have a kind of first Entrepreneurial experience. So that's why I quit my job and then I joined HEC.
What was the product you were developing?
[6:32] The product we were developing is what we called an auxiliary power unit. It's like an electricity generator for a recreational boat. I don't know if you know the brand. It's Beneteau, they do luxury boats.
And in those luxury boats, you need a way to produce energy. But the problem is that the generators are very noisy while working, and they wanted something silent, light and compact. So our challenge was to develop an auxiliary power unit that can be silent, light and compact.
Luxury boats were the primary market, but there were other types of applications like the refrigerated truck that delivers frozen food in the city. They pollute a lot, and they make a lot of noise. We wanted to do something silent and compact for them as well. And that was basically the product, the technology.
I'm not going into the details, but we managed something that was five times more compact, six times less pollutant and very silent. So that was the roadmap that we had, and we built the prototypes to prove that it was possible.
The team would grow from the two people we had in the beginning. And then, at the end of my time at the company, we were seven. We had two partners, one in Italy, and one in Canada. So at the project, there were three companies working, because those two companies had strong differentiating aspects, with strong differentiating technology that we couldn't develop. So we partnered with them. I had seven people working within the company, and then two other companies to manage because it was the consortium.
It was a great experience, we learned a lot, we raised some public funds. Like 1 million euros of public funds to help us in the project. But again, as I mentioned, I wanted to go way faster than we should. I wanted the product ready in less time than what my boss wanted. And I felt like maybe I should learn. I was curious to see what other people think about Entrepreneurship and see how I can launch another product outside of the company.
An MBA to Help in the Search for Business Ideas
Did you have a business idea during your MBA?
[9:01] No, not really. I didn't have any real business ideas. I just wanted to take this time to learn what I really wanted, to build the network, and to build some business skills. And then decide what I wanted at the end of the program. These were the three main things I was looking for to really learn what I wanted to do for the rest of my career.
When you turn 30, you don't know if you want to stay at the same company or change the country, change the industry. There are a lot of questions. So I wanted to really know, to learn by myself, then build a good network. Because that's also, the power of the MBA is that you meet so many great talents. And then learn the skills, learn the core skills, see if they can be useful for me to start a company later.
How did HEC help you grow your entrepreneurial skills?
[10:13] I think there were many opportunities. And what I did first was to be involved in an Entrepreneurial ecosystem within HEC. And HEC Seed was a great opportunity for me because it's a big event organized for students in an early-stage company. I was part of the organizing team and in charge of the pitch competition. We had like a hundred applicants, and it was a major event. I was able to build a network with some VCs (Venture Capitals) and see their point of view on Entrepreneurship. Build my own network at HEC. Learn a little bit from the entrepreneur, because we had to train them at the pitch.
What is HEC Seed about?
[10:58] The event, basically, it's about a gathering of all the post-graduate students who own their company, and the VC ecosystem in Paris. Help these entrepreneurs to learn from the VCs, and from other famous entrepreneurs. Basically, the event is split into two parts, the first where there's a lot of workshops, and then the pitch competitions.
I was in charge of the pitch competition. And in the workshops, we had VCs like Partech, which is one of the major VCs in Paris and France. And for the pitch competition, we had two tracks: the digital and the tech track. At the assignation, I was able to meet a lot of people, learn a lot about the entrepreneurs, and the journey of some entrepreneurs. It was a very good event. That was one of the things I did.
And then in the choice of electives, I chose three electives on digital transformation. I mean, I did electives related to the digital stuff. You have digital marketing, digital transformation. Those were important for me. Because it was about how technology can have a company to change, and how to take advantage of new technology. So that was very interesting because I was very interested in AI. And I wanted to see how those techniques can transform some sectors.
Then, I also took an elective in finance. And, in the early stages, finance is not that important. But It's good to know the process, the mindset of VC. So I took it for it's VC orientated, not because I wanted to go into VC but really to understand the mindset.
And in the end, I took the specialization because I was curious about it. It was great because we had to work within the lab to help them build the startups. So we had postdocs coming with strong technology. They wanted us to help them build the company, this means: what is the value proposition? Does it fit the market requirement? What could be a business plan? And what will be a good market strategy? It was like a real Entrepreneurial experience.
And at that point, I even wanted to continue with this lab. But we couldn't agree on some terms. This was a great experience. So, the HEC event, the choice of electives, very digital and VC oriented, and then the specialization. These were the three main things that I did during the MBA at HEC to really be prepared for Entrepreneurship.
What was the startup you just mentioned about?
[13:38] The lab had developed a technology that can help test drugs in a 3D environment. They had a way to show them in 3D the smallest cells that they can generate so that we can test a drug in real conditions. Usually, at an early stage, drugs are tested in two dimensional and in Ver Roman, and it's not very representative of the ability. So the Rhydro method develops 3d cells very efficiently so that you can see the early effects of a drug.
That was very powerful. But, who are the customers? How would they pay? That was a complicated issue. It will only be a major big brand in the healthcare sectors, like Merck, AbbVie, Sanofi. And you have to meet them all to discuss our assumption to clearly define what will be, what they will sell, and how they generate value to pay the brand.
During your MBA, you didn't have any ideas for a business. How you managed that?
[14:52] I still don't have it. I had many ideas and just tested some. But what I wanted was to really start it. My idea was to start a tech company. If I finish the MBA and want to go for entrepreneurship, to start a company, I need to start something very ambitious. That I like and that I can wake up every morning and work on it and enjoy it. So it was important and I wanted it to be tech because I'm initially a tech guy.
I believe that you can have a responsibility, and compete with any company in Silicon Valley or Israel. And it's important to have a very strong tech aspect as part of the theme. And I didn't have it yet. I didn't have a co-founder and I truly believe that it's good to start a company with a co-founder. So that's why I was still thinking like: "what should I do? What part should I take?" But that wasn't decided when I was at the MBA.
What did you do as you had no clear ideas?
[16:00] What I did like any business MBA, you apply, train for a case study, apply them while at school. But after, I continued to attend some events for entrepreneurs conferences at Station F, one of the biggest incubators in the world located in Paris. It's even where my startup is located currently. There are a lot of events I participated in with them and I took a job in a startup, triple W, a tech funded startup.
Then I was contacted by Entrepreneur First, a program where you don't need an idea, and you don't need a co-founder. It was the perfect fit for me and it's very tech-oriented. So I was already a business developer in the startup I mentioned. After receiving this invitation, I talked to them. I was excited because that was exactly what I was looking for. A place where I could meet some tech people who want to start companies. And I joined the program in October of last year (2018).
What is Entrepreneur First? Is it an incubator?
[17:16] They define themselves as talented investors. In the beginning, there are two phases. The first phase is called the Form phase, you have 14 weeks to find a co-founder and walk on the business case, on a project that is viable.
It's very ambitious, the target market should be more than 1 billion. You should have strong defensibility. It should be legitimated to be in the sector. Your team should be strong. And you have 14 weeks, and every week you have an entrepreneur-in-residence, that challenges you on your business idea. So every week you can break up your team and go find another person.
In fact, at the co-work, we were 50 people. So, 25 startups and you can change, you can break up, find another co-founder, walk on an idea, make your assumption test the market, go back. And if it doesn't work, you break up. I was lucky to find my co-founder, a very strong tech guy, software engineer with AI. I met him during the first week, and we work on our project Leakmited.
We found out that there was a source, but we have to change some assumptions. But in the end, we managed to build a strong business case. At the end of these 14 weeks, there was an investment committee of EF, and we were selected to pass to the next round.
Now we are in the launch phase. They invested 80,000 pounds in our company. And we're going to build a proof of concept, close some clients, and we are preparing the demo day. So, on the 27th of March, we will present in front of 400 investors to raise some seed funds. It all went very fast and that's what we have now.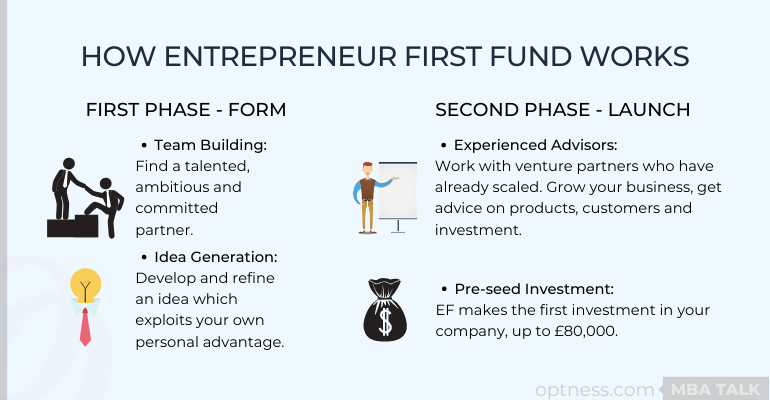 Sounds like Tinder for Entrepreneurs! What were you looking for in a co-founder?
[19:11] Exactly. It's like dating. You have to present yourself in the best way and know how you can contribute to the relationship. Make sure that you are not exactly the same. that there is a complementarity, and that you have the same vision.
And we have the same vision. Because, in my company, Leakmited, we are in the water sectors, trying to find leaks using satellite images and artificial intelligence. We want to save the amount of water that is wasted, and that's a topic that is really important for both of us. So we were very aligned with the vision of the company with what we are doing. And it works quite well.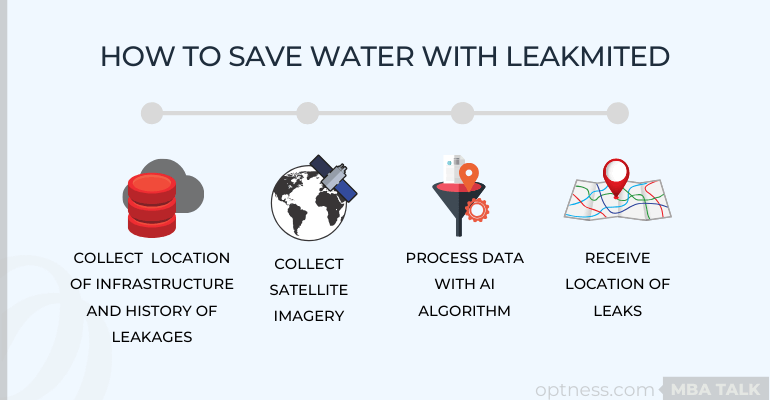 Why didn't you want to create a startup alone?
[20:06] I think the journey, it's quite a difficult one. I mean, starting a company, you have to share this with someone. If you do it alone, you need to be surrounded by very talented people and also a talented advisor. It depends on the objectives of your startup. Whether you have all the skills to build it. So, if you have all the skills, for example, you can do e-commerce, websites in different ways. You have all the tools online to build it. And you can do it alone and you recruit people if you need someone.
But in my case, I wanted to start a tech company in the water sector. I needed some skills and needed some AI skills. So, I needed to build it with someone. That's why I need a co-founder. I knew what he could contribute, and I knew what I was looking for. So, that's why I needed another co-founder to start the journey.
I think it's separated into aspects: this soft aspect where you need some support; and then you have the hard skills when you need the capability to build it. And if you have both, then you can do it alone. But if you don't have it, then it's better to find a common.
MBA as a Gate for Networking with Successful Entrepreneurs
Is there anything you would change about your HEC experience?
[21:36] I think I would start earlier to be involved in the Entrepreneurial ecosystem. But I think it's good to talk to co-founders because it gives you a first idea of the challenge you will have. So during the first year, I was very much into the call course, learning, trying to do my best being a good student. But I think it's really different in the second year, that I was actually involved in HEC, choosing the right electives, talking more, participating in more events.
I think, very early in the course, It's good to get in touch with entrepreneurs. I mean, in a very friendly way, you can see someone who just raised 1 million, you send him a note saying: "let's have a coffee, I want to understand how you did it". And they will accept. In my case, I will accept, and I know many people that I meet like that. They will share the experience. Explaining the treats. Explain how they built a company, how to recruit people. And that's very good. So if I had to change something, I would have started earlier to be involved in this ecosystem.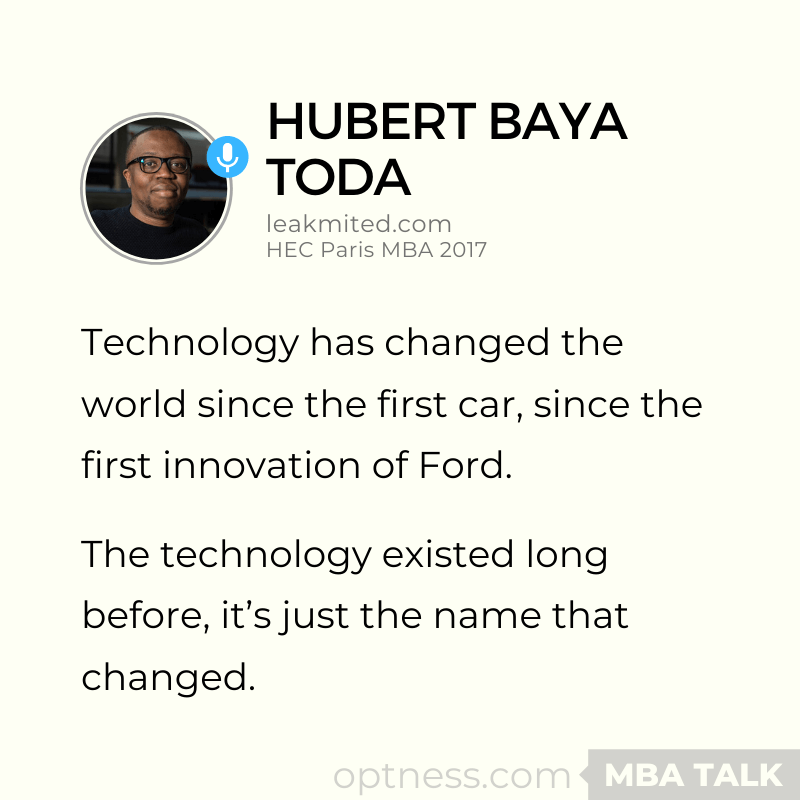 Can you name some people that influenced you on this journey?
[22:52] I think he probably doesn't know that, but my professor during the entrepreneurship specializations called Thomas Astebro. He teaches the Strategic Management of Technological Innovation. It's about how you start a tech company. And you know, most of the time we think it's all about the feelings. It's true that sometimes it is about intuition, gut feelings, and anything we encounter is new.
But in fact, there are some theories behind it. There are some theories behind how technology has changed the world since the first car, since the first innovation of Ford. The technology existed long before we started this, it's just the name that changed. It can be AI that tomorrow will be something different.
And in fact, he showed us that there are some principles. There are some things that govern this process of how technology has changed. And you have to take that into consideration when you think about your business.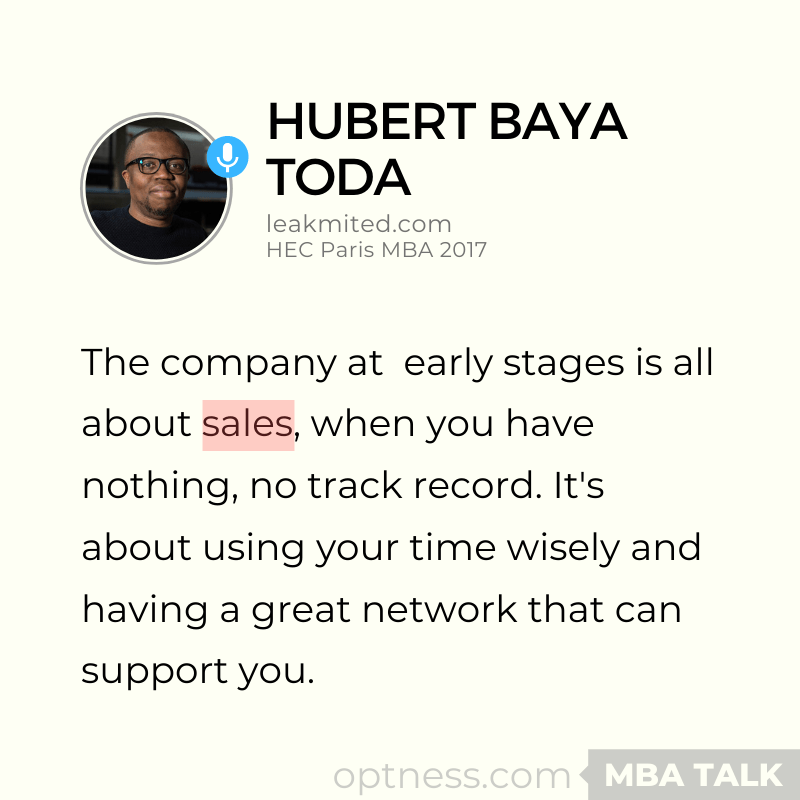 And this was very powerful. I was very interested in that. And I was like, "Wow!, this is new to me." And he really convinced me that it's good to start a tech company. Because if you have strong defensibility, you can contribute to change in the industry. And he really influenced me in my cause to start a business. (Here you can find some of his publications)
What do you think about skeptics that say that business school is a waste of money for aspiring entrepreneurs?
[24:22] That's a common opinion. I think, to answer this question, you need to know what an early-stage company needs, and what business school can bring. I think when you are at this stage, what you need is to build and sell. You need to build your product and sell it. And the company early-stage is all about sales when you have nothing, no track record. It's about using your time wisely and having a great network that can support you, which can help you.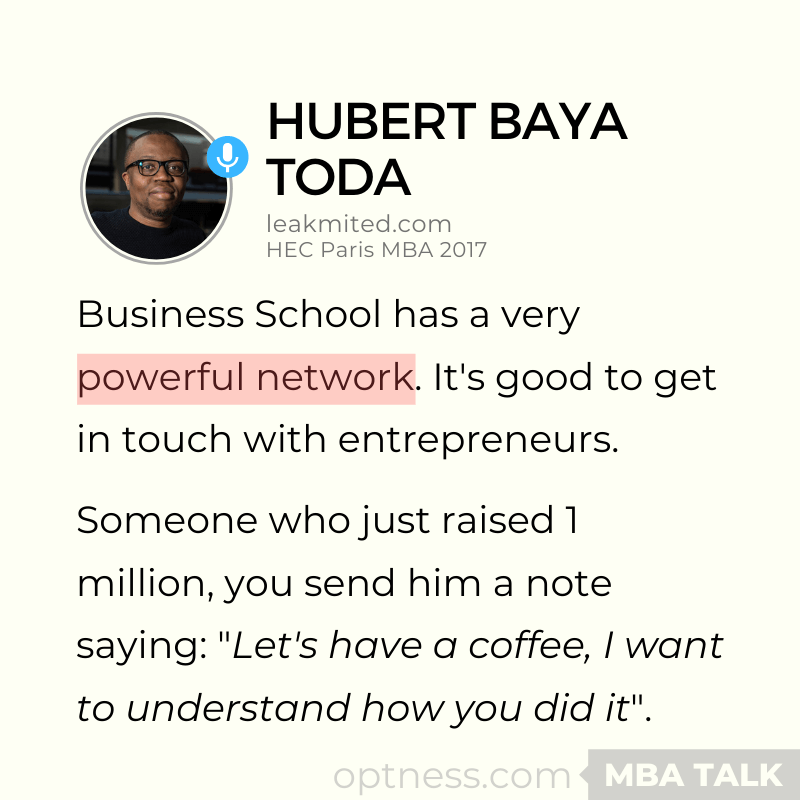 That can introduce you to the key aspect. I think Business School has a very powerful network, where you have any background there. They can help you in the setting phase, help you a lot building your strategy, finding your right person. If you even want to have some PoC (Proof of Concept), not just with your friends abroad, you can call someone and it will help you.
I mean, because you can learn in Coursera and everything. But the network and meeting people for real, it's not just online. It's very powerful, and talented people attract talented people. Smart people attract smart people. So, when you're in the business school, the chance to meet someone great, that did something that you cannot even imagine, is very high.
That's really helpful through the sales part strategy, network, mentoring. It's not a waste of time for an entrepreneur. And in the building part, it's different. If you build a more tech company you will not find the skills there. And depends if you find an MBA student who has a tech background. But if you build more and operate a company, you can also learn some operative skills in business school. So, in my opinion, it's not a waste of time. It's just how you define what you need in the early stage. And how you can use the resources of your business school to help you.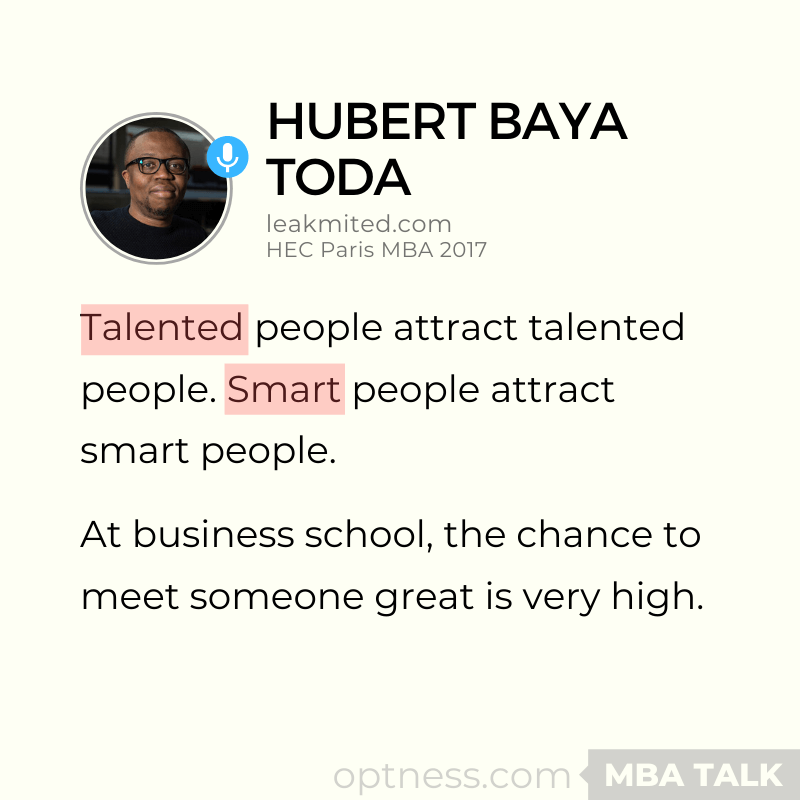 Tools for Tech MBA Founders
What are the expectations for this year?
[26:38] The expectations are for our startup to close the most deals that we can, use what we can with clients. Because I think the best money we can have as a startup is money coming from clients. And that is a great confirmation that we do something good. Then raise some funds to help us increase the team, and build a great product. Those are the three (expectations). It is not very simple, but these three are the expectations that we have, and the hope we will make Leakmited something big.
What are the tools that help you the most as an MBA entrepreneur?
[27:32] I think the Business Canvas is a great tool to help you think about the different aspects that are fundamental. I also recommend the book Strategic Management of Technological Innovation. It's a book that's for every person who wants to do a tech startup. If you are a business guy and you want to learn about tech companies, you will learn a lot about how you categorize your technology, and how it will impact your strategy later on. So that's very powerful.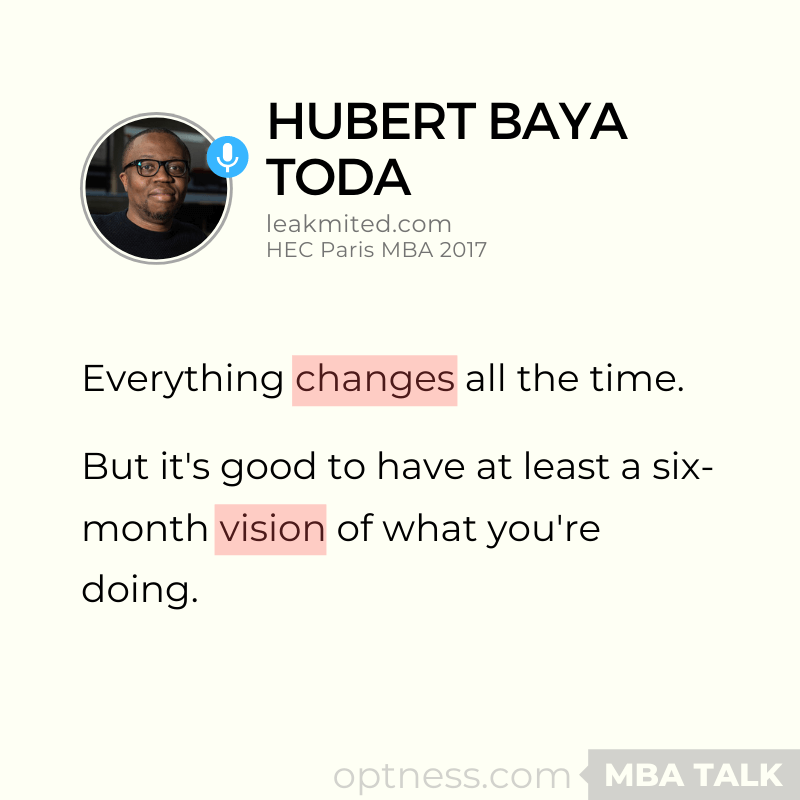 And then you have Trello. I use it every day to track everything I do, you just need to make sure you don't forget to Trello. Teamgantt is the software that I use for long term planning.
It's true that we understand that everything changes all the time. But it's good to have at least a six-month vision of what you're doing. So even if you have to update that all the time, it's good to have Teamgantt. It's a powerful way for you to manage the project.
[28:58] In the cohort there are so many cool startups. Transcelestial is a very cool startup. They tried to power satellites from the ground. So they send the laser, and they want to power the satellite so that they get more energy to send us a better image. It's a really great one.
[30:05] I think the only thing I will add is to consider an MBA if you are looking for a co-founder, or you want to start a company. You should really think about what you can bring on the table. And building skills takes time. Because many of the skills that we learn there are useful for a later stage, like when you want to scale. And In the early stage, it's like selling and building.
If you think about what you can bring on the table, it can be domain expertise, a great network, and great sales capabilities, like analyzing past markets, and be able to tackle who is the best company for the product. Otherwise, you will feel like you don't contribute to building the company. So that's the only recommendation lesson I can add.
—
Thank you for joining for this interview with Hubert Baya Toda, co-founder of Leakmited. You can find all the other interviews and podcasts, as well as SUBSCRIBE for future episodes at optness.com/mbatalk. And if you're enjoying the material, or have any comments, topics, or guest suggestions, you shoot us an email. My name is Andres, and you can write to me at [email protected] . And if you want to contact Hubert Baya Toda, you can send him an email at [email protected] .
Check out our courses specifically designed for MBAs