Would you quit your job to focus entirely on Entrepreneurship?
In this episode, we are joined by Johannes Burgard. He is from the ESADE Barcelona 2017 class.
He is the founder of Solytic, a company in the intersection of solar energy and analytics. Solytic is currently based in Berlin.
Keep reading to learn how he resurrected the ESADE Entrepreneurship Club, how his MBA facilitated his networking efforts and how he ended up in the energy industry.
If you enjoyed this episode be sure to join our mailing list to find out about what books are coming up, giveaways we're running, special events, and more.
Check out our courses specifically designed for MBAs
Episode Notes
The Choice Between an MBA or a Ph.D
Do you have any favorite resources about entrepreneurship?
[1:06] Actually, I don't have one. There are so many books that try to describe the challenges of a startup. Maybe to give you a little bit of context, I started in a corporate career and with the MBA I fully went for startup. I dove into everything related to startup and entrepreneurship, during my MBA. 
My sister actually founded a company before my MBA, and I was already taking part there. She founded another company during the MBA, so I was participating in it as well.
I always had a touch, or connection to entrepreneurship, also during my studies, my friends were already tapping into this environment. So, what I believe to know today is that every kind of horizontal source of information is interesting only to a fair extent, but every single time it's completely unique. I haven't actually listened to any broadcasts so far where I thought: "Damn, this is good I need to listen to the next one." 
And with books, there are those classics, many which are relevant, like How to Manage Humans or Zero to One, things like this. They all are adding value but it's always just a single perspective and a single point of information in that sense so it's not the Holy Grail.
Was your first contact with entrepreneurship through your sister's company?
[3:03] Yeah, it was partially from my sister, taking part in the early days, when she founded a bootstrapped company. About four years earlier, she'd already started something and I was participating there to a small extent, as a sparring partner but being close to it. And then friends founded companies, which I experienced. I started little things myself and now started a company. I actually see more parallels and similarities between what I did in the past or the working style I had during my corporate times to startups than I expected upfront.
What made you decide to go for an MBA at that point?
[4:06] I actually decided to do an MBA before I started working. When I finished my engineering studies, I was working in research for three years, and then I decided to do my diploma thesis in the industry. Simply not to dive into science entirely and doing a Ph.D. which would have added another five years at the research center.
I decided to go for an industry experience, write my thesis hands-on, and that was basically the kicker for me to say: "Okay, I will not do a Ph.D. in engineering. I will work for a few years and do an MBA to leave the super technically focused environment and rather go for a more generalistic challenge."
After the MBA, did you feel the need to leave the company you were working for to do entrepreneurship?
[5:22] I was pretty sure that I would not come back. There was a small chance of going back, so that's why I didn't quit. That's also why you find that I was employed until the end of March 2017 at CLAAS.
I was on sabbatical during my MBA. But the idea was, if I would have gone back, I would have wanted to be in corporate development or even open a new office in a new country for the company. 
So that was the bigger picture. And this wasn't possible. If you would start a subsidy for a company in a different country, that's nothing else than entrepreneurship. But it was about two weeks into the MBA when I decided to focus entirely on Entrepreneurship, meaning starting something new after the MBA, or joining something very young.
What made you decide not to go back to the company?
[6:34] Because I understood that the environment I was working in, during my time at CLAAS, was already super entrepreneurial. I had a boss, who was not my direct manager, but actually his superior, who was giving us a lot of freedom and the chance to really be entrepreneurial within the company. That was what was so exciting for me. 
I wasn't an engineer who was developing products. I was running projects for the production, in an international environment, running and designing supply chains and shop floor processes. Applying robotics, automating manual process steps, working in this machine-human interface, and software-hardware interface. Everything that I loved about this job was the entrepreneurial part about it. 
Even though I really enjoyed my four years at CLAAS, I knew that if I'd come back, I would not find again the same working environment, the same atmosphere, the same freedom. It would have been with a different department with less freedom and less entrepreneurial spirit around me. 
So, I thought: "Okay, so this is not going to do the trick for me." Basically, I was just taking every class that is connected to entrepreneurship. I joined the entrepreneurial environment. I was leading the Entrepreneurship Club, went full-throttle on whatever ESADE was offering in this context. It just confirmed everything, step by step, that I really want to go for entrepreneurship and I really want to be in this dynamic environment.
Taking Responsibility as the President of the Entrepreneurship Club
What was your experience being the president of the Entrepreneurship Club and why did you decide to be the president of the club?
[8:36] I was asking professors, how they perceived the club, and what the strengths and weaknesses were. They told me that it wasn't too active and they didn't have too much interaction, but still, I realized very fast that ESADE is super strong on Entrepreneurship.  
While I was checking out the environment, I saw that there's a lot of strength within the school and the school's environment, but it's not really interconnected. And I found that as an absolute weak spot. How can I get the most out of it? 
Probably when you take an active role and the most active role is when you are president. Taking leadership responsibility, so you can take an active influence on how this year is going to be, and what activities are going to be executed at the end of the day. If you do an MBA you spend a lot of money on that experience, and the more active you are, the more within you are, the more you can learn and the more you can experience.
Did you organize some kind of events during your tenure?
[9:54] Of course. Once you are president, you start crafting your board and giving different roles out. We also had a lot of events. But we also took a huge part in designing, redesigning and reinventing basically.
The leading futures back then was Innovation Summit, organized by the Design and Innovation Club, which was just one club, with limited resources. And we thought: "Okay, so every club wants to do something. So let's do something as MBASA (MBA Student's Association)."
In this case, I was actually not just president of the Entrepreneurship Club, I was also part of the Students' Government, one of nine representatives and I was class representative of one of the three sections. So, this put me in this position to try to mitigate all the different stakeholders of the student's body to form something new. 
This was most certainly the biggest thing we did, where we took an active part in but also study tours. We went to London, we built up a bridge to an Alumnus from Tel Aviv, that trip was taking place the year after.
Did you help your sister's company while doing the MBA? What was her name and the company?
[11:43] I did. So, she founded her company in 2015. The company is More Than Carrots in London and her name is Annette. If you want to reduce your carbon footprint, the biggest leverage that you can take is actually reducing your meat consumption, and in London, you have such a variety of great cuisine, which is even vegetarian or vegan. 
You basically just need to know where to find the stuff that you love, that you like to eat. And this is the bridge, this knowledge gap between the consumers who want to reduce their meat consumption and the cuisine which is already there.
Just to bridge this knowledge gap is what the company is mostly about. When you go on morethancarrots.co.uk, or you download the app, you can decide the cuisine that you're interested in and you find the best restaurants. So, you don't look for a restaurant, but you look for a dish, and this leads you to find the best choice for you in town.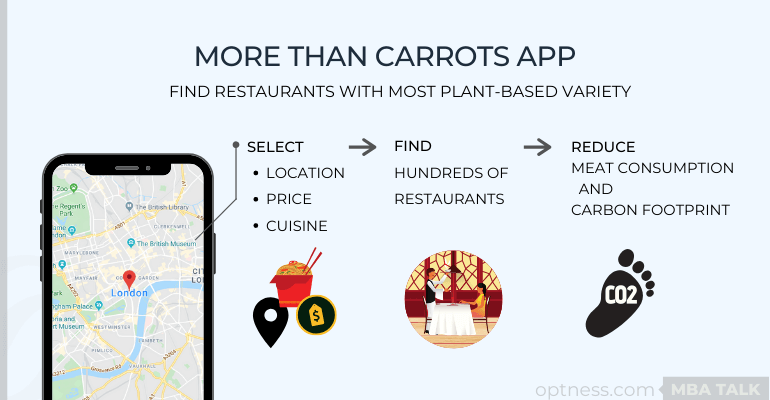 Were you supporting her during your MBA?
[12:58]  I was part of the journey. I just supported them on a high level, being a sparring partner when it comes to designing or thinking about what kind of business models you could do. And then during the MBA in 2017, in spring, I was actually on exchange at Imperial College in London and was working with her.
Finding an Opportunity in the Energy Sector
How did Solytic come into your life and what your company does?
[14:00]  When you look into photovoltaics, solar energy, you see that there are three different customer segments. You have the utility-scale, the very large-scale solar assets of multiple megawatts. Then you have very small assets in the residential market, house owners. And then there's a growing segment in the middle, commercial and industrial. Those are the big rooftops smaller ground-mounted assets and industrialized applications. 
And these three segments are quite different in their character. For residential, it's still kind of a lifestyle product, they usually have some kind of freeware to monitor the systems, just checking out whether they run more or less properly. In the utility, in the upper segment, you have very professional and sophisticated software tools. And the middle segment is completely underdeveloped so far, simply because it only grew during the last years, it's quite young.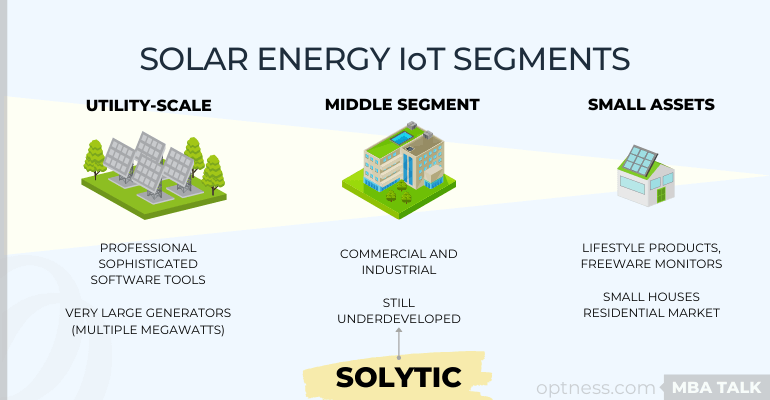 When you install a solar panel, do you always need some kind of software to monitor it?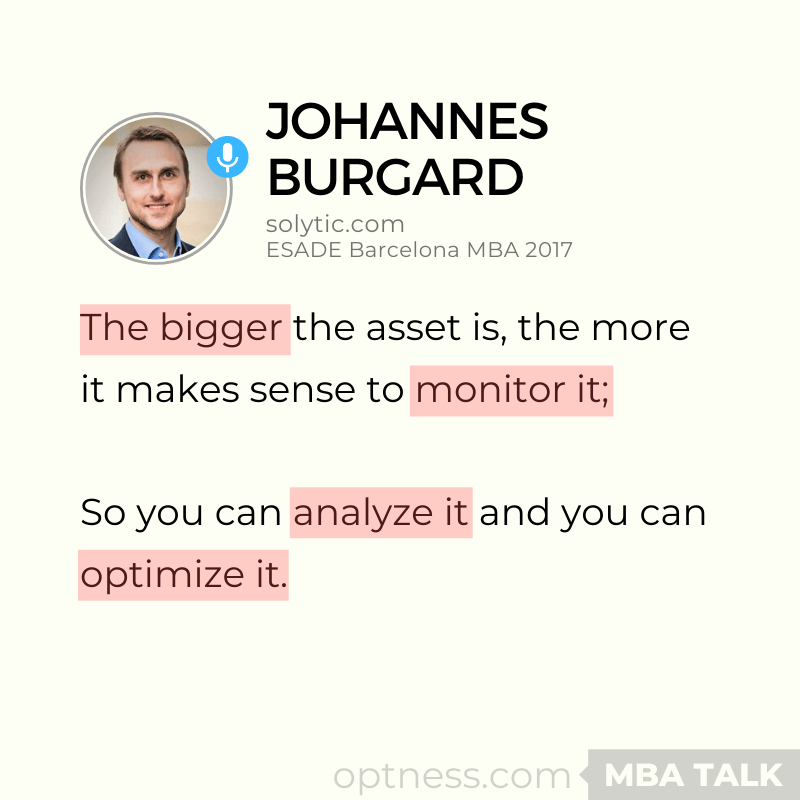 [15:10]  You don't need it. But it makes a lot of sense because otherwise, you don't know what's going on. When you bake a cake and you don't know what temperature is in the oven, you might overheat it, you might under heat it. You can only check now and then. And the bigger the asset is, the more it makes sense obviously to monitor so you can analyze it and you can optimize it.
How did you find this gap in the market?
[15:36]  Well, because we looked into it. Solytic ideation was actually done by Swedish utility company Vattenfall and the company builder FoundersLane (formerly called "FACTOR10"). While Vattenfall wanted to go into solar and into renewables, FoundersLane was specialized in helping corporates to build new digital business models, to develop them so far that you can actually build a company out of it. 
I was doing, during my MBA, a little research project regarding renewables and photovoltaics were the central part of this project. I wanted to build more intelligence around this presumption idea to connect residential owners to one smart, decentralized microgrid, and then I met FoundersLane. Back then, like a year after I did that project during the MBA, and they told me about their project with a utility and that they are looking into data analytics in photovoltaics.
This was an internship during your MBA?
[16:45] No, it wasn't an internship. I just met one of the founders of FoundersLane. When we started talking, I told them what I wanted to do after the MBA, and they told me what they're doing right now, it was a perfect match. We stayed in touch and it ended up with me  starting at FoundersLane as an entrepreneur-in-residence in summer 2017, after my MBA, taking over the project with Vattenfall
We founded the company in September and raised money in December 2017 to formally start, having a legal entity but also, to actually build the company.
What was the name of the CEO of Factor 10 at that time and how did you meet him?
[17:38] The CEO is Felix Staeritz. I was applying in the entire entrepreneurship world, basically in Berlin, London, Amsterdam, Barcelona, Tel Aviv, Stockholm, by meeting people. I was looking into opportunities in this field, into what's going on between corporates and startups, there was a lot of movement back then. And FoundersLane was exactly trying to build a bridge there, bringing together the strength of a corporation with the strength of a startup.
This is what I really believe, that there should be more leverage. So, my CV (Curriculum Vitae) ended up in one of those founder's circles. And Felix looked at it, thought it would be worth meeting. We met and we talked about my plans, his plans, and it was a match.
Was this part of a personal campaign or as part of an event?
[18:40] No, neither. I met one person in Berlin who I had a good talk with, who said he doesn't have any job offer for me at this time, but in general, he liked me. He liked my profile. He thought there might be someone who would like to talk to me. So, he shared my CV in his circle and, Felix picked it up, and then it happened.
Were you just open to every opportunity at the time?
[19:14] I was looking for two sectors, health tech and energy. And I was focusing on an IoT case. So IoT case-based products that should use digital technologies and I wanted to be in an environment that is about scale. 
Work-life Balance of an MBA
Did you consider going back to corporate at any point, like a backup plan?
[19:40] Yeah, sure. As a backup, I had one informal job offer at a very large corporation, for a senior project manager role that would have had a roadmap for personal development regarding a lead engineer. So that would have been a corporate career. Quite interesting, super challenging. Meeting kind of all my expectations, all the tick boxes would have been ticked, but it would have been in a corporation and I just didn't want that.
Looking back would you have changed anything about your school experience and the search for an idea for a company?
[20:29] No, not really. I was very happy that I took an active role, and It was hell when it comes to work. The workload was really intense as I started the company, it didn't get any better. I'm obviously struggling. When you talk about work and life balance, that's quite challenging. I just try to fit everything in there and I get not enough sleep constantly.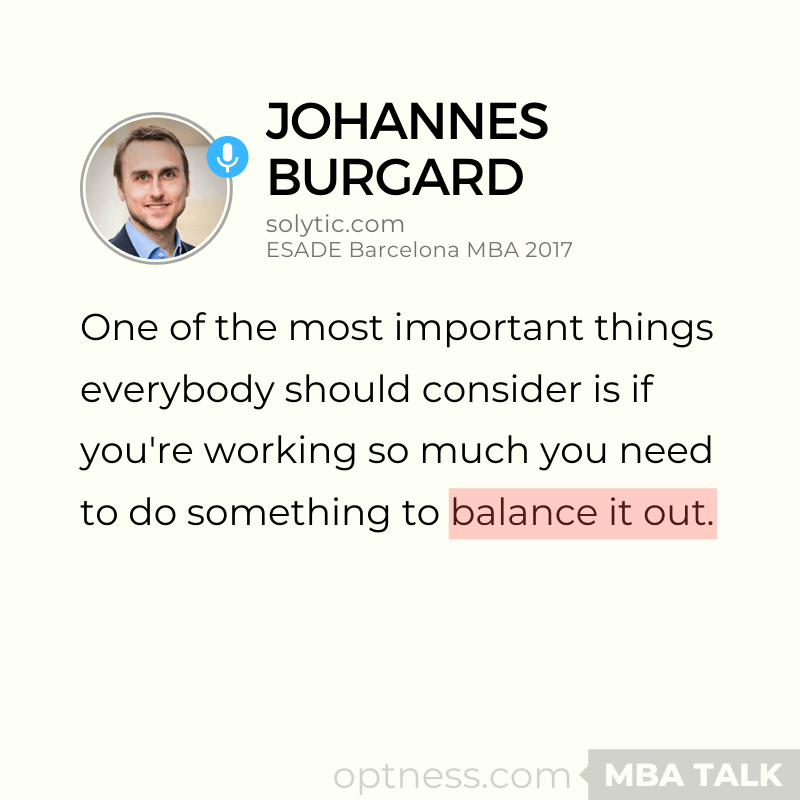 It is demanding for sure, but it was a conscious choice. So, it's not overwhelming, it didn't come by a surprise. Therefore, I don't mind. It's still a conscious decision to continue like this. 
During the MBA, as I mentioned, I was quite active with extracurricular activities. I also participated in sports and so forth. I think this is certainly one of the most important things everybody should consider. If you're working so much you need to do something to balance it out.  
For me, it's sports. In general, it helped me a lot during the MBA also to be part of the football team, to be part of this running group, to really do some activity on the side that keeps you mentally healthy. And private life, there wasn't any during that time. It was school and work and sports and that's it.
What's your response to skeptics that say that business school is a waste of money for entrepreneurs?
[22:04] Absolutely not. It depends on your vision. For me, it was the most important building brick to become an entrepreneur. I wouldn't have gotten my offer to this opportunity to co-found Solytic without the MBA. 
For me, it was the learning platform where I could only tap into this entire environment, learn everything I wanted to learn, meet the people I wanted to meet. Because of the MBA, I had intense interaction with experienced entrepreneurs for one and a half consecutive years. I did an internship at a startup that just proved me right in pursuing an entrepreneurial career after the MBA.  
Because of the MBA, I was in London meeting great people from London Business School and from Imperial College, again, entrepreneurial. I could work full-time at my sister's company. Because of the MBA, I was in Tel Aviv and in Stockholm. Because of the MBA,  I met well connected and active people out of the global entrepreneurship ecosystem. 
The MBA extended my network and extended my horizon, I experienced so many different things focused on entrepreneurship because of the MBA. Without it, I would have not gotten the opportunity that I have right now, no chance.
How is Solytic going? What do you aim for this year?
[23:43] Right now we are 25 full-time employees. We are raising fresh money to fund the next growth phase, while merging with another startup. Merging the two products will be challenging. Onboarding the first large customers will be fun, raising the money, growing the team and finding a new office will be a challenge. 
This is very operational, and at the same time, not completely ignoring my girlfriend and our private plans. These things, trying to get back into kind of a work-life balance is my personal goal.
—
Thank you for joining for this episode of the MBA talk podcast. A podcast brought to you by Optness Institute. You can find all notes for this episode, as well as subscribe for future episodes at optness.com/mbatalk. And if you're enjoying the show, or have any comments, topics or guest suggestions, I'd love you to shoot me an email. My name is Andres, and you can write to me at [email protected]. With that, thank you and we'll see you in the next episode.
Check out our courses specifically designed for MBAs